We strive to unlock large scale personalised learning to accelerate upskilling of any worker.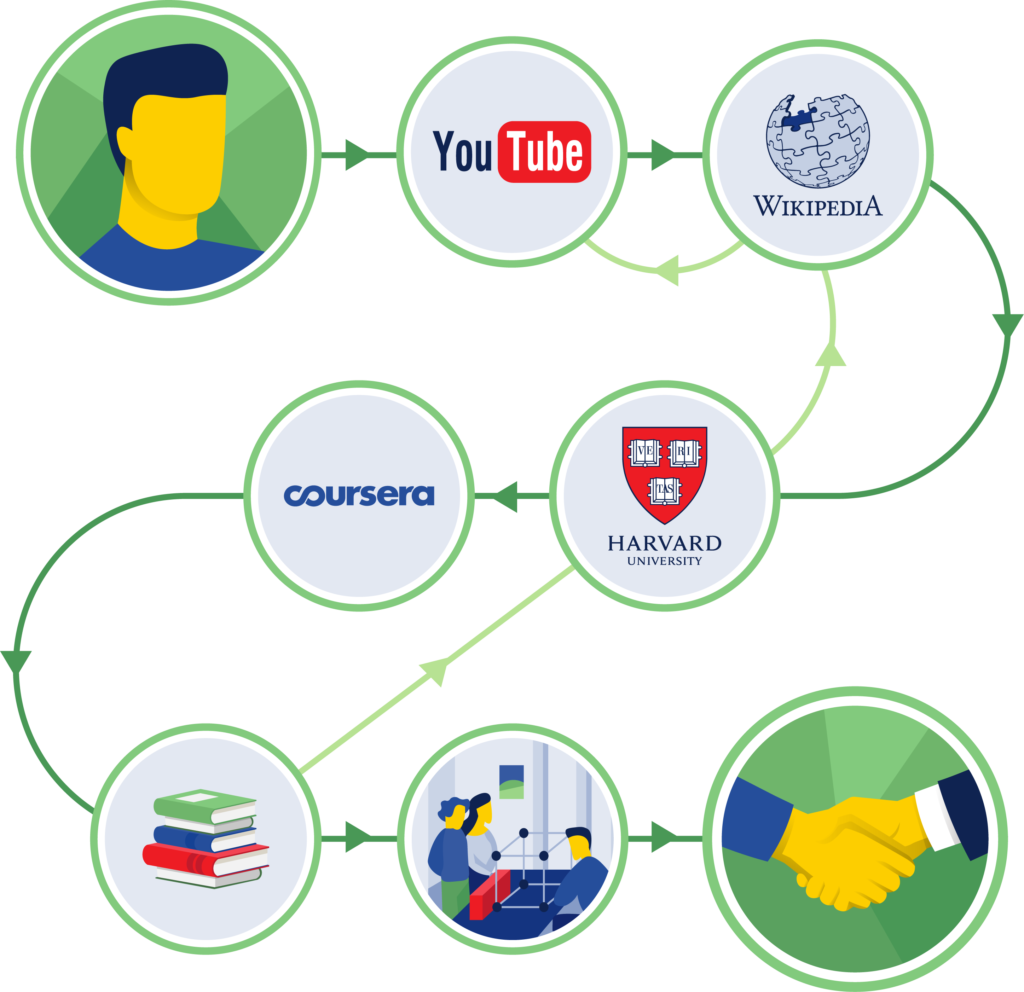 1 learner =
1 learning experience
Learning should not be a one-size fit all experience. Adapting learning curriculum to every learner is not an easy task for teachers and trainings organizations. Thanks to our data and tools, we make it easier for them to provide their learners with the right learning activities, at the right time, for the right learning goals and needs. 
We needed a better search engine to find great educational resources, so we built one. Back in 2018, Benjamin and I were discussing our respective educational backgrounds while waiting for our weekly Friday Night Magic tournament to start. The discussion shifted toward dyslexia as Benjamin told me he was dyslexic. This is a subject close to my heart, as my two brothers are also dyslexic, while I am not. After our discussion (and an extensive market research) we came to the conclusion that while the quantity and variety of educational resources had exploded in less than 15 years, most educational curriculum were not leveraging these new resources. Whatever the subject, even the most advanced, you can now find great content in various formats and easily accessible on websites such as YouTube, Wikipedia, MOOC (Coursera, EdX, Udemy, etc), Podcasts platforms, Medium, Stackoverflow, Instructables, WikiHow, etc. However, as we know from the taxonomy of Bloom, easy access to these educational resources is not enough in itself to transform the knowledge learned into a fully mastered skill at professional level. Universities and training organizations were reticent to use theses educational resources because they fear about their quality. This is not surprising, as we all fear what we don't know. For them to use these resources in their curriculum, we needed to give them better (meta)data. We needed a technology that could finely characterize all the metadata of a learning object in order to be able to determine which learning activity to provide to a learner, at the right time, for the right learning goals and needs.  This technology is what became our proprietary and unique learning object indexing and enrichment technology, internally called GNO6. This technology enabled us to build an index of 3M+ learning objects that can be now accessed and queried though our Inokufu Search plugins and APIs. After migrating to a cloud infrastructure in 2021, we are now in the process of reaching 250M+ learning objects by 2025. 
The first large scale use case of our technology is the Becomino webapp. This app helps people discover the most in-demand jobs in France. This webapp is a great showcase of what can be obtained when integrating our Inokufu Search APIs. This project is supported by the Plan of Investment in Competencies (PIC) and Pôle Emploi Auvergne Rhône-Alpes (France). We are very thankful for this opportunity to showcase our technology while contributing to the challenge our society is facing amid the current labor crisis.
We've grown the business from a bootstrapped start-up without office, to a brilliant team working remotely in France and abroad. Today, we are actively promoting interoperability among the edtech sector, through our implication in Edtech France, Gaia-X working groups of the Data Space of Education & Skills and Prometheus-X. By enabling the flow of educational data in a fair and human-centric way, we firmly believe that it will improve the quality of the data collected and thus the quality of learning experiences. This would create a data flywheel, where our AI-powered data pipeline would process hundreds of million of anonymized, aggregated educational data, every day — allowing Inokufu to continuously improve and deliver greater learning experiences everywhere in the world.
Matt, CEO & Cofounder
We're a customer focused company operating remotely, delivering services to customers in higher education and professional trainings segments. Delivering high quality services to our customers is our top priority. Our core values drive how we work with our customers and how we build our team through who we hire, reward, and promote.
Every one of us has customers. We start by understanding our customers' needs and we innovate to meet their needs over time. We build long term relationships.
We are all different. We learn differently. We like different things. We imagine different solutions. May our differences become our strength
We do not criticize in vain. We do not debate endlessly. May our words be positive, factual, brave, benevolent and constructive.
We do our best to build durable and practical solutions. We are actors of our successes. May our work together contribute to change the world, a step after the other.